William Garfit R.B.A. Biography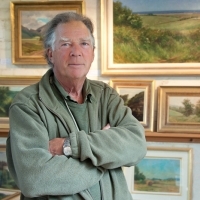 William Garfit, was born 1944 in Cambridgeshire where he now lives with his artist wife Gina. He has two daughters and a son, also an artist who has recently founded the Newlyn School of Art in Cornwall. Highlights in Will's life are his three young granddaughters.
He studied at the Cambridge School of Art, won a scholarship to the Byam Shaw which was followed by a postgraduate three years at the Royal Academy Schools.
He has held One Man exhibitions in London since 1970 and regularly at the Tryon Gallery in Cork St between 1979 and 1991, at Holland and Holland in 1994 and the Tryon Gallery, now in Bury St, in 2009. He and Gina exhibit biannually at home as part of Cambridgeshire Open Studios.
Much of his work is by commission, specialising in sporting rivers and water landscapes but also including other landscapes and paintings of houses. He always paints outside on location and is particularly interested in the mood and character of the water and landscape. Every painting is the stage for the onlooker's imagination, sharing the feeling and presence of the place. Commissions have taken Will from the southern chalk streams to the grand rivers of Scotland or the spate rivers of the Highlands. Also abroad to countries including Iceland, Russia, U.S.A, Argentina, Brazil, Austria, Germany, France and Switzerland. His work is represented in many private collections including those at Sandringham, Highgrove, Woburn Abbey and Powderham Castle.
The north Norfolk coast is a landscape he loves to paint when staying at the family cottage in Cley. The wide horizons of sea and marsh are inspiring and their, ever changing, subtle colours and tones depict moods and solitude evoking an inner spiritual peace.
William Garfit is also well known for his line drawings or sepia wash vignettes of wildlife subjects which have illustrated some thirty books of country sports.
He has developed a remarkable shoot, fisheries, and wildlife reserve from an area of disused gravel pits near his home. This project won the prestigious Laurent Perrier Award in1988 (now the Purdey Award of which he is on the judging committee). This led on to two very successful books of its story, "Wills Shoot" in 1993, republished as "Will's Shoot Revisited" in 2005.
He has written monthly for the Shooting Gazette magazine since 1994. An anthology of articles became a book "Will's Shooting Ways" in 2009. For the last three years, between painting trips, he has been writing an authoritative book on wood pigeon shooting, a sport for which he has a great passion. This has recently been published by Quiller Publishing for the British Association for Shooting and Conservation (BASC) and is titled "Will's Pigeon Shooting".